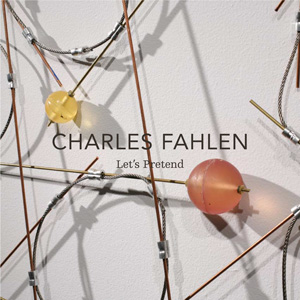 Charles Fahlen: Let's Pretend
The Secret Life of Materials (2008)
Catalogue Essay by Steven Wolf
In 2000, Charles Fahlen returned to the San Francisco Bay Area, where he was born and raised, after thirty-three years in Philadelphia, where he had become one of the city's best known artists.
The return home after a long journey has an archetypal significance for artists, who are known to revisit their early life and work. In the 1940s and 1950s Georgio de Chirico famously went overboard and painted a series of lonely colonnades indistinguishable from those he produced as a youth during World War I.
Fahlen's work is allusive and metaphorical. He himself is not that literal. So the homecoming took a different form. Philadelphia is a dense city with more than enough ambient light to obscure the night sky. It was only during road trip back to California, when he and his family camped out at night, that Fahlen remembers seeing the stars with clarity.
"The sky felt like a totally different place," said Fahlen in a recent interview at his home along the Russian River, just north of San Francisco. "It's a kind of presence here that wasn't the case in Philadelphia."1
If this were a Spielberg film we would cue the child, the skateboard, the aliens. The plot would teach us how the magic of the cosmos reveals itself only to the very young and the very old. The rest are too busy at work, fighting with their spouses or going to the hardware store to see it. But since this is a Charles Fahlen production we'll dispense with the B-movie sense of wonder and just go to the hardware store.
Fahlen's sculpture can be read on many levels but ultimately it privileges its own materials and production process as a point of reference over everything else. The 1973 Wawona Series, for example, is a collection of abstract sculptures whose title refers to a homesteaded area in Yosemite Park where Fahlen often stayed as a child and whose primal forms resemble the ceremonial objects of a lost Native American tribe. But it is the adventurous choice of materials — resin, latex, gauze, Sculptmetal, copper foil, roof cement, wire, Rhoplex, asbestos cement — and the craft in repurposing them by hand into sculpture that really stands out and which can be used as a guide to investigating his practice.
In this sense Fahlen is a product of his generation. He came to maturity in the wake of artists like Eva Hesse, Lynda Benglis and Richard Serra, who pioneered what some critics called anti-form, others process art, and which Lucy Lippard memorably named eccentric abstraction. Those artists had a number of goals in mind. One was a desire to further break down the object so it could be less easily commodified; another was to lay open and demystify the production process. They were completely unsuccessful with the first goal but critics thought much more so with the second. While the residue of these pursuits is present in Fahlen's work, his path toward empirically based art had more to do with close encounters in his own neighborhood. In order to have a studio with room enough to work, Fahlen renovated old houses in the inner city of Philadelphia. He got to know the neighborhoods where contractors buy their materials. It's perhaps too much to call him a flaneur of those "quirky Mary Poppins stores"2 where he rummaged through the "light industry leftovers,"3 but he was definitely inspired by them and took advantage of the technical expertise. One fabricator he visited had been crimping wire for over one hundred years.
"It's not that I was unaware of Joseph Beuys," said Fahlen, when asked about his use of felt in a 1970 series of sculptures. "It's just the place that sold it was right behind the school where I taught."4
Robert Smithson's non-site sculptures of rock-filled bins were designed to take you out of the gallery and over to some obscure place, often a demolition site in outer New Jersey, where he was from. Fahlen's sculptures essentially do the same thing, they just don't explicitly announce it. They map a quarter of Philadelphia, some of it now gone, in the way that Joseph Cornell's collages and box constructions map the lost world of New York City's second-hand book shops and thrift stores. And, as a record of his specific perambulations, they recast sculpture as an experience of place. British artist Richard Long, who formalized the connection between walking and object-making, theorized in a 2001 personal statement what Fahlen merely did by intuition:
"Walking enabled me to extend the boundaries of sculpture, which now had the potential to be de-constructed in the space and time of walking long distances," wrote Long. "Sculpture could now be about place as well as material and form."5
If the materials connect Fahlen's work to a specific time and place, their journey in the studio from utilitarian product to aesthetic object testify to the artist as alchemist. When we consider their original intention — to make things faster, to keep things from leaking, to help engineer what used to be called progress — their redeployment in quirky objects with a mysterious subtext destabilizes a comfortable situation and leaves us wondering about ourselves as both creators and consumers. Can we say that Fahlen is investigating the secret life of materials, giving voice to their latent desires and ambitions in the way the detectives on Homicide, the Baltimore-based cop show, used to say it was their job to "speak for the dead"? And in that sense are they then a mirror for the role of the artist, who, in theory at least, gets to act out on the collective fantasies of the population at large constricted by regular work?
"Technology and progress can be double crossed," wrote Fahlen in 1976. "Processed industrial materials are sidetracked by the artist as magician who reinvents the relationship of materials and shrouds the implications of their transformation in mystery while the product itself is still clear. Both ends reveal a fantasy about ourselves as makers (creators, manipulators and controllers) of an environment and destiny for objects calculated to better the world."6
In the Diptychs, a series of open-faced book sculptures each one made from a different combination of Fahlen's typical materials, the artist substitutes the raw working matter for text, cueing us to see the material itself as the narrative or discourse. Anything but a dull read, he is here literally going outside his sculpture practice to comment on the centrality of material in it. Cracker Jack, a five-panel accordion-shaped folder with each a single material, bumps it up one notch and presents the materials as though they were so many pages in a menu. Like many of Fahlen's sculptures from the period, it is named after a mass-produced item. In this case, the candy is both an analogy for the materials in the sculpture and a symbol for the child-like pleasure of making and enjoying the work.
Cracker Jack illlustrates Fahlen's recurring tactic is to link a highfalutin aspiration, fine art with a feature of low culture, processed candy. We can see how this interrelation works in the realm of the spirit. The West has typically ventured East for enlightenment. The urge has been to smear the local as benign. Fahlen's denaturing of high-tech, consumer material reverses that paradigm. Like the ready-mades of Duchamp, it suggests that we can find a plenitude of meaning in the diurnal and utilitarian.
The 1979 White Cloud is a perplexing architectural form composed of wood fibers, resin and fiberglass. The work glows with mystery and falls tantalizingly short of actually being a lampshade. Bereft of utility, however, the material becomes the occasion for a more intense experience of its own properties, thus generating an anxiety-provoking sense of freedom that takes it into the realm of the existential. There is a scene in My Dinner with Andre, in which playwright Wallace Shawn gives voice to this philosophical inversion in response to the outrageous tales of exotic wisdom gained by his friend, Andre Gregory, the avant-garde theatrical director.
"Why do we require a trip to Mount Everest in order to be able to perceive one moment of reality?" asks Shawn. "Is Mount Everest more real than New York? I think if you could become fully aware of what existed in the cigar store next door to this restaurant, it would blow your brains out."7
Fahlen's never made a sculpture that directly referenced Mount Everest, but over the years he has cited landscape monuments with mythic properties closer to home. One is Dirty Devil, a tributary of the Colorado River where Butch Cassidy was known to hide out from the law; another is Colter's Hell, a Geyser field in Wyoming, felicitously named after the French fur trapper who passed through there. Both sculptures abstract the landscape forms and shrink them down to body size. The 1991 Dirty Devil further toys with scale by doubling as a giant camping cup that telescopes, something Fahlen used on Boy Scout trips. The relationships of body to landscape and high art to consumer culture are complicated through the intersection of form and personal memory, a dialectic which recurs with success throughout Fahlen's career. In Colter's Hell, a 1991 installation at the ICA in Philadelphia, Fahlen recreated the geyser field and then littered it with detritus he cast in concrete, points not only at the way we substitute our mythic idea of the landscape for the real one — if there is such a thing — but that we pollute the hell out of it too.
"[Fahlen's] sculptural alembic echoes the transmutation of the west from a divine land — pre-exploration — to a monument to divinity — the period of western expansion — to a park for divine monuments," wrote Patrick Murphy. "Perhaps the industrial language of minimalism [employed by Fahlen] offers the most appropriate means of commentary on this sequence of the mythical reduction of landscape to tourist industry."8
The most recent body of work, executed since Fahlen returned to California, moves from landscape to skyscape, taking us back to where we started. Drawing inspiration from the starry night, Fahlen presents the universe on both the grandest and the humblest scale. From his old trick bag of materials, he uses chain link, crimped wire, painted spheres of epoxy and various other staples of the hardware store to fashion miniature surrogates of the cosmos. These constructivist wall sculptures flatten three-dimensional space into two, and sag with an existential shrug where a computer model would map with Newtonian precision.
As depictions of the cosmos they are no longer that dark wall in the Platonic cave onto which we project our fears and dreams. Intentionally grounded, we can now look at them face to face as equals. Positive and negative have been reversed: What was black sky is now white wall and what were glowing white orbs are now palpable, earthy objects. Some of the constructions look like oversized jewelry; others resemble toys and pedagogical models for children, things that have always inspired the artist. Nothing feels forced or pretentious.
"I think about Pick Up Sticks and Connect the Dots," said Fahlen. "It's a hands-on thing. Whereas constellations and the celestial array are a hands-off experience. In general, ideas are sort of hands off. Hands-on is the actual building or playing the game or manipulating the elements in the game."9
Fahlen has also referred to "...crab traps, Tinker Toys, Woolworth's, unfinished furniture, creative playthings, Barbarella, how-to books, and pictures of samples."10 as things that inspired him. It's tempting to think of him in the studio as a Gepetto-like figure, breathing life into inanimate objects with a toymaker's delight. However, by specifically focusing on the heavens at this emeritus point in his career, he seems to be daring us to up the ante from artist as toymaker to artist as god.
In the 2007 Prophecies of More, a pun on Fahlen's old school, he makes this analogy explicit. However it's anything but a reference to the omnipotence of the artist. True, this tiny universe of Bauhaus color and contoured grid conjures up the magnetic fields of Enlightenment science and the primary colors of twentieth century utopian aesthetics, but it's totally without the dogma of high Modernism. It's a self-effacing, empirical world of bricolage, craft, irregularity and play. The portrait of the artist reflected in its glow is not some Apollonian magician loaned to us from Mount Olympus. Fahlen is what Sid Sachs dubbed him in a 1990 essay, the "handyman minimalist,"11 that resourceful guy who shows up at the door with a toolbox, high spirits, and a bottomless well of keen tactics who will impishly cobble together a universe for you with whatever's ready to hand.
What we are left to ponder, in conclusion, are the thoughts and intentions of the god behind these mini-universes, given their foreboding titles: Dark Side, Calamities, Sky Quake, Pandemonium, Foretelling Floods. Is Fahlen looking through a lens darkly at his own mortality, or can we read these home depot solar systems as an escape from or an antidote to a nation in the political dumps, dangerously burning up its own resources? Fahlen lives now, after all in Northern California, the heart of America's eco-consciousness and he has an original Buckminster Fuller Geodesic dome on his land! When accused of playing god, Steve Martin, a neurosurgeon in The Man With Two Brains, yells back: "Somebody has to!"12 Lets just say that Charles Fahlen is an artist doing what he can to construct counter worlds that humbly contradict the one we're living in today.
Steven Wolf Fine Arts
49 Geary Street, Suite 411
San Francisco, CA 94108
Gallery now located at:
2747 19th Street
San Francisco, CA 94110
voice: 415.263.3677
web: http://www.stevenwolffinearts.com